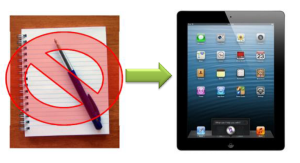 It wasn't that long ago that I carried my notebook and pen to every meeting. It was a tried and true method that served me well….until my iPad came along. At first I would bring both, but soon it was just the iPad. With the Apple cover, I can prop it up at a slight angle like a keyboard and use a note-taking program or simply compose an email to myself. At the end of a meeting I just shoot the notes over to my desktop to sync into my OneNote. OneNote is an information management program that stores all of your notes. 
Now, I no longer have to spend 5-10 minutes manually typing those notes into my computer when I return to my desk. Multiply this by several meetings and I'm saving 30-45 minutes a day. That's a nice chunk of time returned back to me for more important things (like another meeting).
I've also found this to be a great tool in small group meetings. I can simply pass around the iPad during a discussion to help avoid printing hard copies of documents (that will only be thrown away). There are many other great things you can use your iPad for at work: LogMeIn for remote access to your office PC, GoToMeeting for online conferences, and that occasional game of Angry Birds when you need a break from it all.